Convenient Location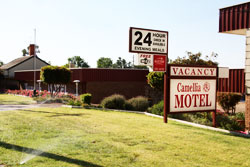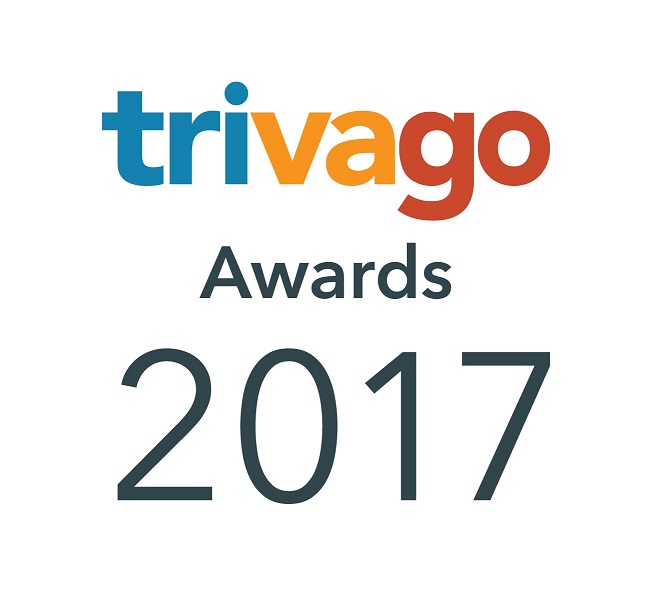 | | |
| --- | --- |
| Via Newell Highway - | |
| Brisbane | 1253 km |
| Coonabarabran | 582 km |
| Dubbo | 422 km |
| Forbes | 247 km |
| Finley | 144 km |
| Gilgandra | 489 km |
| Goondiwindi | 925 km |
| Grong Grong | 23 km |
| Jerilderie | 109 km |
| Melbourne | 432 km |
| Moree | 800 km |
| Narrabri | 701 km |
| Parkes | 281 km |
| Shepparton | 252 km |
| Toowoomba | 1119 km |
| West Wyalong | 140 km |
| | |
| Via Sturt Highway - | |
| Adelaide | 849 km |
| Albury | 166 km |
| Canberra | 341 km |
| Hay | 172 km |
| Perth | 3387 km |
| Sydney | 565 km |
| Wagga Wagga | 95 km |
| Yass | 281 km |
| Barellan | 58 km |
| Cootamundra | 156 km |
| Deniliquin | 203 km |
| Finley | 144 km |
| Leeton | 28 km |
| Griffith | 96 km |
| Mildura | 462 km |
| Nowra | 484 km |
| Orange | 257 km |
| Swan Hill | 392km |
| Tamworth | 744 km |
| Young | 200 km |

Contact Us
80 Newell Highway (Whitton Street )
Narrandera, NSW 2700 [map]
Call Us
Phone: (02) 6959 2633
Great Reasons to
Stay With Us
| | |
| --- | --- |
| | Free WiFi Internet |
| | Free Foxtel on a Flat Screen TV |
| | All rooms are non-smoking |
| | All rooms are air-conditioned & heated |
| | Designated car park at each door |
| | Room service breakfast |
| | Clean modernised rooms with good beds |
| | Swimming pool with BBQ facilities |
| | Short walk to restaurants, cafes and licensed clubs |
| | One & a half blocks to supermarket & liquor store |
| | Centrally located & close to all shopping |
| | Easy access to main highway for travellers & rep's |
| | 2 mins to Narrandera town centre |
| | 3 min drive to the hospital |
| | Closest accommodation to golf club and racecourse |
| | Narrandera airport 7.5 klms |

Narrandera Local Area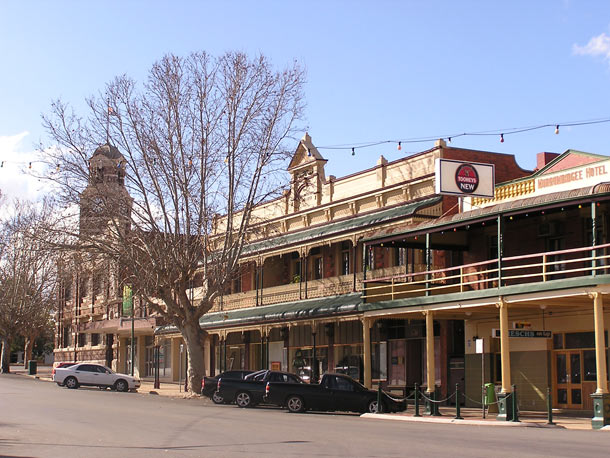 Enjoy Narrandera
http://www.riverinatourism.com.au/things-to-see-do/nature-outdoor-activity.aspx
Wetlands: Narrandera, known as the Town of Trees has many natural attractions. Bush walk the Nature Reserve or break your journey and visit the Wetlands which are located at the southern entry to the town between the canal & the Murrumbidgee river. Follow the interpretive signage on a 1 kilometre stroll and enjoy the abundant flora and fauna. From the bird hides spot the Superb Australian Parrot, Koalas, Southern Bell & Yellow Spotted Tree Frogs or the Little Bitten which forage in the Wetland particularly during Spring . Study the Australian panel bridge as you cross the inlet.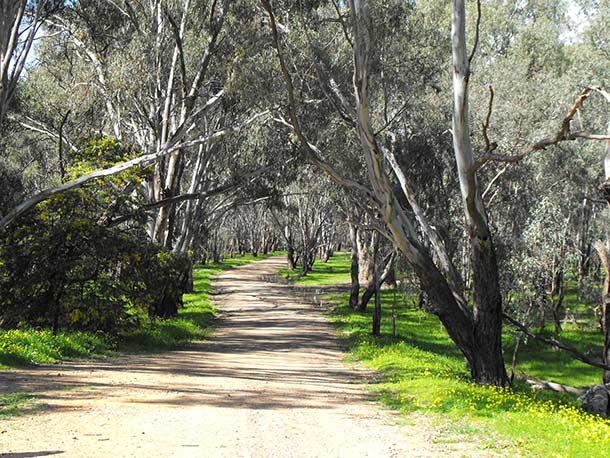 Bird watching & Twitching: is very popular with 13 informal bird sites and a number of State Forests. http://www.mfn.org.au/NarranderaWetlands.html
Eco-Tours & Koala Reserve: The 1.5hour Eco-Tour of the Koala Reserve along a 3km walking track presents the opportunity to site, Koalas, Kangaroos, Superb Parrots, Kookaburra and Echidnas. http://www.todokids.com.au/activity/eco-tours-and-koala-spotting-narrandera-flora-and-fauna-reserve
Lake Talbot: has a natural sand bottomed swimming hole and recreation area. The Olympic pool, children's pools and water slides with a kiosk, bbqs, picnic areas and play equipment all add to it's appeal. An amphitheatre of terraced lawns and shade trees provide a buffer to the outside world. Information Contact: www.narrandera.nsw.gov.au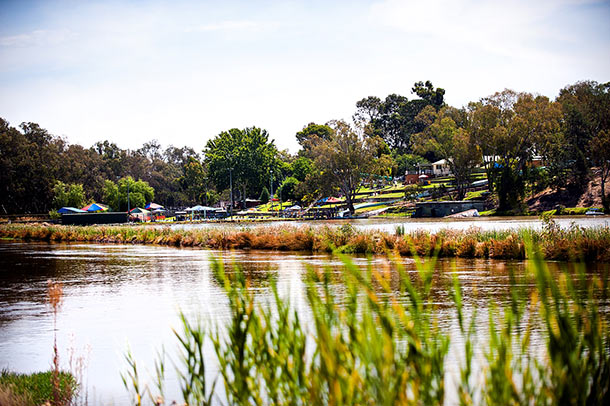 Narrandera Fisheries Centre: Home to research and breeding programs for native fish species of the Murrumbidgee Darling River system. Guided tours, workshops and supervised kids fishing workshops are available by prior arrangement. Kids learn about sustainable fishing practices, how to hook a line, and have fun actually catching fish.( www.industry.nsw.gov.au)
Lavender Farm: Lavende Aromatiques Lavender Farm is a worldwide supplier of dried lavender, essential lavender oil and exquisitely handcrafted lavender skin care products and gift items. The Lavender Farm is open six days a week and has been described as an oasis and is certainly worth a visit.
Tigermoth and World War Two Memorial Building: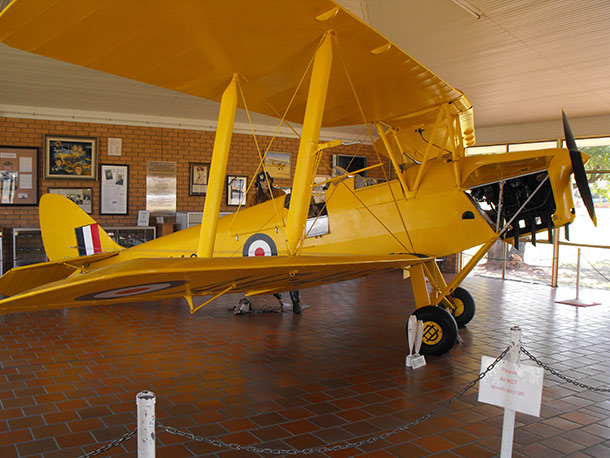 Situated in the beautiful Narrandera Park within walking distance of the Camellia Motel see this tribute to the young Australians who completed their flying training at No 8 Elementary Flying Training School in Narrandera during WW2. www.8eftsassociation.org.au
Narrandera Airport: (also known as Leeton/Narrandera Airport) (IATA: NRA, ICAO: YNAR) is a small regional airport in the local government area of Narrandera in the Riverina region of New South Wales, Australia. The airport is located 4 nautical miles (7.4 km; 4.6 mi) northwest[1] of Narrandera along Irrigation Way. The airport services the towns of Leeton and Narrandera as it is located between the two towns.
The Riverina Drag Racing Association: holds their drag racing event four times a year at the airport.
Rex Airlines: operate a daily service to Sydney and services to multiple destinations in NSW, South Australia , Melbourne or Brisbane. www.rex.com.au
Sports Events: All the local Clubs hold annual tournaments and Camellia Motel is the closest for accommodation to the Golf Club (info@narranderagolfclub.com.au) the Race Club (leone@narranderaraceclub.com.au ) and Bowls Club.
Activities
Nature Reserve – Koala, Kangaroo Spotting Narrandera Fisheries Centre Narrandera Wetlands – Bird Watching Tiger Moth Memorial Lake Talbot – Swimming